Printer-friendly version
Download Project Profile
The following article was authored by Lauren Pinch and originally published in Construction Executive, a publication of Associated Builders and Contractors. Copyright 2019. All rights reserved.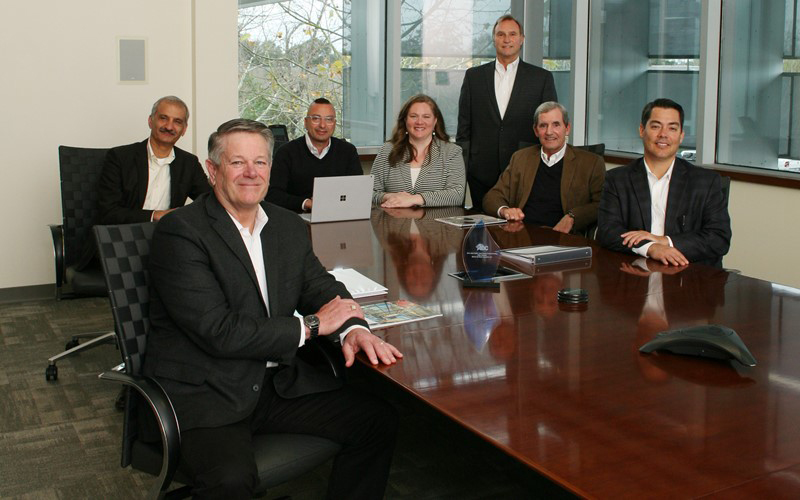 "Our most precious resource is people," says Mike Holland, COO of MAREK, recently named Associated Builders and Contractors' 2018 Contractor of the Year in recognition of its history as an innovator, career builder and champion of the construction workforce.    
This simple statement sums up the mission and vision of the 81-year-old family business, which accepted the award at ABC's 2019 Convention in Long Beach, California. 
From its early days as a small residential drywall company founded by three brothers, to its current stature as one of the largest commercial specialty contractors in the South with more than 1,500 employees and seven regional offices, MAREK has always relied on the power of its people. 
"They really are the wellspring of our business. We are nothing without our people," says Holland, who is based in the Houston office and has worked for the company for 48 years.
Across generations, MAREK's leaders have built a business that prides itself on repeat clients, an impressive project portfolio, a stellar safety record, a revered workforce development program and a dedication to the communities where it works. 
"In our 80-plus years in business, it has always been about the people who work here and who have worked here," says Phil Nevlud, a managing director at the Houston office. "Whether it's among our trade partners, or the general contracting community as a whole, we are known for having some of the best people in the industry. They are the secret to our success."
MAREK's craft professionals, known by clients for their strong work ethic and attention to detail, consistently deliver award-winning results in interior construction specialties—including drywall, finishes, trims, sound and fire-rated assemblies, acoustical ceilings, coatings, window treatments and wall coverings—while incorporating the latest innovations in materials and technology. In the Houston area alone, the company may have in excess of 1,000 field employees working on jobsites at any given time. 
"The difference with MAREK is that we care," says Sabra Phillips, director of talent development. "Our people care about each other, and they care about the customer. They care about doing the right thing and doing a good job every day. It all works together." 
For CEO Stan Marek, who leads the company with second-generation Executive Vice Presidents Bruce and Paul Marek, this care and concern for workers extends into a passion for immigration and apprenticeship reform. He is an advocate for paths to legal citizenship and investment in construction education, training and safety that will not only inspire more candidates to enter the field, but also combat a crisis of worker misclassification and exploitation of the undocumented.
"We need an immigration solution so these individuals can come out of the shadows, and work and pay taxes," Marek says. "Our emphasis is continuing to develop a dedicated skilled workforce, and to remain an hourly, W2 employer, while staying away from the trend toward independent subcontracting or using labor brokers. We are laser-focused on developing our own people: our strength from within. That's where our thrust is going to be."  
DIVERSITY IN HIRING, TRAINING AND RETENTION
MAREK, like its peers, has more potential work than it can take on. For example, in Houston, FEMA is investing several billion in construction repairs after Hurricane Harvey, but there aren't enough skilled craft professionals out there to support building or bidding on all the work.
But where the company shines above its peers is in its robust recruitment and referral program—not just for field workers, but also for those with the potential to advance to become project managers, superintendents, estimators or safety managers, and company leaders.
In addition to high school visits and career fairs, MAREK builds relationships with the sons and daughters of current employees. (For videos of these personal stories, visit marekbros.com/people-stories.) And it creates second-chance opportunities for those who may have a criminal record or who are currently underemployed in other industries.  
"We have had the most luck recently with upskilling workers whom we find through community organizations and referrals through family and friends, and friends of friends," Holland says, noting that MAREK strives for inclusiveness in all hiring efforts. 
"The phenomenon for the last several years is bringing more women into construction," Marek adds. "We are mirroring our diverse community." 
Company leaders are recognizing female workers are particularly talented at finishes and attention to detail—whether it's trims, ceilings, painting, wall coverings, window treatments, carpeting or sheetrock and framing. And they display a strong sense of work ethic and responsibility to their fellow team members. 
"It is our goal to add at least 20 percent more women to our workforce," says Saied Alavi, a managing director in the Houston office who is responsible for putting these diversity efforts into place. "In our type of business, women typically do very high quality work installing architectural finishes, and they do a great job with just about everything else, too. More effectively engaging them will help us ensure our bright future as far as recruiting and bringing in new employees."
Then, once they are in, the key is mentorship—providing direction, training and oversight to ensure all new employees feel seen and supported. 
"The company has always been open and welcoming to people of any background," Phillips says. "If you show up, work hard, keep learning, and take care of your teammates and your customers, that's all it takes to be successful here, regardless of any other factor."
It goes without saying that MAREK offers a competitive benefits package including health care, vacation time and 401(k) matching. And it invests in regular OSHA training sessions and continuing education opportunities. 
"Our field and hourly employees are our most important asset. We are very passionate about their well-being and their future with us," says Jorge Rodriguez, a managing director in the Houston office who conducts in-house employee training. "We also train our senior-level project managers and estimators on a regular basis to aid in their productivity and skill sets."
For example, MAREK offers an "ECON 101" class for entry-level workforce development employees that helps them get up to speed on the economics of the industry. It's hosted after hours and taught by volunteers.
"You can't win in the marketplace if you can't win at home," Holland says. "I think that's really the battle of our generation. If their development opportunities for career ascension are met, we all will win." 
Outside of its own internal efforts, MAREK lays the foundation for the future of the industry by supporting top-notch education organizations such as NCCER, the Construction Education Foundations of Georgia and North Texas, the ABC Greater Houston Chapter's Construction & Maintenance Education Foundation, the Construction Career Collaborative in Houston, and school districts and ABC chapters across all MAREK markets. 
CRAFTSMANSHIP DRIVES BUSINESS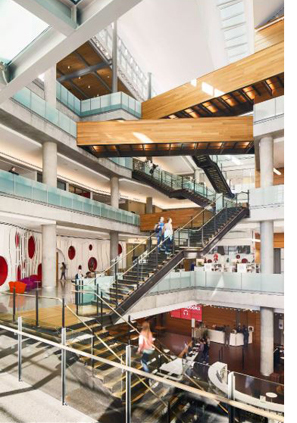 MAREK's attention to workforce development adds to its reputation as a niche player in all the markets where it works—Austin, Dallas, Harlingen, Houston and San Antonio, Texas, as well as Atlanta and Nashville. The professionalism of its craft workers and office team members makes such a good impression that it often leads to repeat business.  
"One of our company goals is to 'Impress the Customer,'" says Dennis Yanowski, former board member of the ABC South Texas Chapter and past president of MAREK's San Antonio office. "We work hard to anticipate the customer's needs; be professional, complete and competitive; and deliver a quality project staffed with a well-trained and safe workforce. We are aware of the fact the customer has many options when choosing its partners. We want and need them to want us on the next one!"
MAREK is frequently at the top of the list for large general contractor clients, including Austin Commercial, Bartlett Cocke, Gilbane, Harvey, Holder, Manhattan and Turner, and several other major developers, construction managers and design firms. Its fine craftsmanship can be experienced in the interiors of several landmark buildings in the health care, institutional and sports sectors. 
"We don't sell work, our people sell work," Rodriguez says. "Clients will often say, I want to give you this job, but only if you promise that you'll put so-and-so on the job. That's pretty awesome when calls come in simply because they know we will meet a sound budget and schedule and provide fantastic quality work."
Current Houston health care projects include MD Anderson at Texas Medical Center, Memorial Hermann Hospital, Houston Methodist's North Tower and University of Houston's College of Natural Sciences and Mathematics. Other projects include the new Hewlett Packard Enterprises offices near The Woodlands and the new Hines Block 58 high-rise downtown; plus, the Nancy and Rich Kinder Building at the Museum of Fine Arts. 
In Dallas, MAREK is racing through the new Texas Rangers Stadium and several hotel and office complexes, and in San Antonio, working on the USAA complex for multiple contractors. In Atlanta, crews are working at the Hartsfield-Jackson International Airport, after recently wrapping up at Mercedes-Benz Stadium. In Austin, recent wins are the Texas Mutual Insurance complex and Hayes High School, while Harlington is gearing up for work at the Hidalgo County Courthouse.
"Our clients recognize that we have their best interests in mind; therefore, they treat us as partners in the process," says John Hinson, Dallas/Fort Worth division president. "We are their go-to choice for difficult and intricate landmarks."
The key is being able to deliver on promises, all while being under constant price pressure. While MAREK usually isn't the lowest bidder, it has one of the best reputations for client satisfaction. 
With its long history in the industry, and an evolving leadership team, MAREK has learned to be nimble and adaptable to change—staying on top of evolving materials and technologies such as BIM—to continue on a path of growth and take on a broad platform of clients and types of work.
ABC: A TRUSTED NETWORK
In the early days, MAREK was known as Marek Brothers Sheetrock, which significantly during the 1950s to become an industry leader in drywall and shiplap installation, soon renaming itself as Marek Brothers Company while branching into residential contracting as Stanley Construction. In the 1960s, the founding brothers took advantage of a commercial construction spike and founded Commercial Drywall Incorporated (CDI), and operated as a dual shop, as craftsmen began to perfect installations of curved walls and ceilings, as well as use gypsum board and metal studs, which were new materials at the time. MAREK continued to perform commercial work as a merit shop, working for the giant Brown and Root (later KBR) on some of the first commercial office buildings to be built open shop in Houston.
CDI grew its branch offices in the 1970s, then on to Atlanta and Harlington in the 1980s and 1990s, while the Houston residential market continued to grow. In 1982, an oil bust recession led to a downturn in work, forcing the company to downsize and adapt. In the 1990s, as the economy recovered, MAREK resumed a growth pattern in the commercial marketplace as a solely open shop contractor. 
Today, MAREK is a champion of the merit shop values of trust and integrity, as well as dedication to jobsite safety and workforce development. The company was a founding member of the ABC Houston Chapter and the Dallas-Fort Worth TEXO Chapter, and its leaders have volunteered on several ABC committees and boards during the past several decades, including PAC and the Free Enterprise Alliance. It also is an ABC Accredited Quality Contractor with STEP Diamond safety status.
MAREK, led by the presidents and managing directors at each branch office, are highly invested in advocacy for ABC apprenticeship and craft training programs to be known for the value they offer: as a path to a high-paying, lifelong career in construction. Not only does the company work with local chambers of commerce, plus city and state agencies, but Holland and Stan Marek also have testified in Washington, D.C., to advocate for immigration reform, diversity and removal of cumbersome regulations. 
"The value of our membership in ABC is that it offers us the opportunity to give back and to contribute to something bigger than ourselves. What we give out, we get back in return in the form of business connections and friendships," Holland says. "The larger ABC network starts to accrue. I've learned things that have directly impacted what I would like to do here at MAREK, and I don't know how you could describe value any better than that."
Ultimately, MAREK stands out as Contractor of the Year because of the trust it has built over the years. 
"Our clients know that we're going to do the right thing. We're not perfect, but if we make a mistake, we make it right, and that's what clients expect," Holland says. "We run an organization that has a culture of honoring our commitments, keeping our promises and backing them up with quality work."