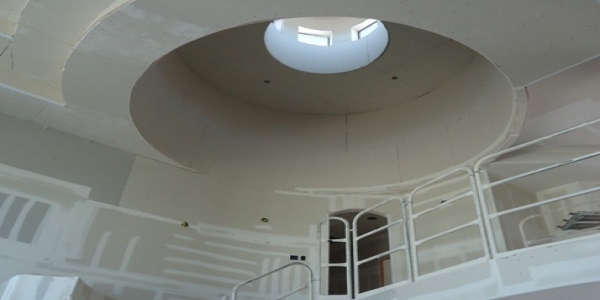 The wood framing that is used in the vast majority of residential construction presents unique challenges and problems. A wood stud or joist is not an engineered product, and each piece of wood behaves differently when exposed to changes in temperature and humidity. Since the Mareks hung their first house in 1938, we have been meeting these challenges and solving these problems, and we have become the premier residential drywall contractor in each of the markets we serve. Whether you are a volume homebuilder, a luxury homebuilder, or a multifamily builder doing large apartment and condo projects, you can count on MAREK to provide consistent quality and superior service.
When drywall is installed incorrectly over wood framing, the problems may not be evident at move-in. Many problems caused by bad hanging or finishing do not manifest themselves until months later, when the wood structure goes through seasonal changes and begins to move and settle. Even a job done right may experience some "settlement cracks". But massive repairs due to defective materials or workmanship can be enormously expensive, especially if the occupants have already moved in. With MAREK, you know you are dealing with experienced craftsmen and supervisors who know how to strike the difficult balance between meeting tight deadlines and getting the job done right the first time.
One of our founders Ralph Marek often reminds us that "you are only as good as your people". The reason we are the best is not because it says "MAREK" on the sign out front. It is because we have the best people. Why? It's because we have treated and paid our workers fairly, and their checks cash every Friday. It's because we offer better benefits and believe in making our company one of the best places to work. It's because our company is committed to growing a skilled, sustainable workforce, and to making working conditions better for all construction workers. We have been doing these things for 75 years, so it's only natural that the best people gravitate towards MAREK. These are the people that our home and apartment builders deal with every workday. They are the best at what they do, and that's what makes us the best at what we do.
Related Blog Posts
by Sumner Hunter on Jun 5, 2014

Why are residential drywall companies like comedian Rodney Dangerfield? Because sometimes we get "no respect at all". I have often wondered why it is that many homebuilders seem to think that almost…
by Amanda Marek on Jan 17, 2011

 Marek Brothers Company - Austin will be working with Riverside Homes to build new, modern-style homes located in central Austin close to Zilker Park. This development will be a 10-home development…
by Amanda Marek on Dec 3, 2010

Marek Brothers Company performed drywall work for Riverside Homes at 1012 Harwood Place in Travis Heights. This particular house caught the eye of Barbara Corcoran and ended up being featured on her…