Printer-friendly version
Download Project Profile
MAREK Field Supervisor Jaime Ramos was recognized Friday at AGC Houston's Patrick J. Kiley Excellence in Leadership Awards Program as the 2018 AGC Standard of Excellence Award winner. Jaime, nominated by McCarthy Builders for his outstanding work on the Museum of Fine Arts Houston (MFAH) Glassell School project last year, shares this award with his crew and fellow award nominee MAREK Project Manager Jay Lee, shining a spotlight on the quality craftsmanship drywall, acoustical and other interior trade professionals and project managers deliver for the construction industry.
Jaime joined MAREK in 2011 when a friend referred him to the training program. He had a few years of construction experience and was looking for an opportunity to grow and take care of his family.
Supervisors quickly noticed Jaime's outstanding attendance, willingness to help, desire to learn, and quiet determination. He worked well with everyone, took initiative to solve problems, and worked safely with a "no punch" attitude.
Today Jaime is a MAREK Field Supervisor specializing in occupied hospital renovations and complex projects with unusual or detailed designs, including the many artistic design details within the MFAH Glassell School project.
Superintendent Terry Holcombe says, "What stands out to me is when I first met Jaime he told me he was going to find what he liked to do and then become the best he could be at it. He was a quiet guy, but told me he was going to do his very best and to watch and see. He let his work, his actions speak louder than words."
When an opportunity came up for Houston to add a new craft instructor one evening a week, Terry immediately thought of Jaime, a Leadman at the time about to be promoted to Field Supervisor. "Jaime's demeanor and people skills really stand out. He gets along well with everyone. Whenever he works with trainees or others on his jobs, he takes the time to make sure the person really gets it. He is patient and doesn't mind showing the person again."
Helpers and Mechanics in Jaime's Basic Construction Math and Basic Drawings/Layout courses agree, frequently commenting on how well he explains the material and is willing to take calls and answer questions after class. When Jaime took over as the math instructor, his supportive teaching style increased successful student completions by more than fifty percent.
Jaime credits his MAREK coaches and leaders for believing in and mentoring him, "I would like to thank David McMillan for helping me along the way to become a foreman, as well as Terry Holcombe and Luis Espitia. These three guys have helped me in many different ways and given me a lot of opportunities to grow."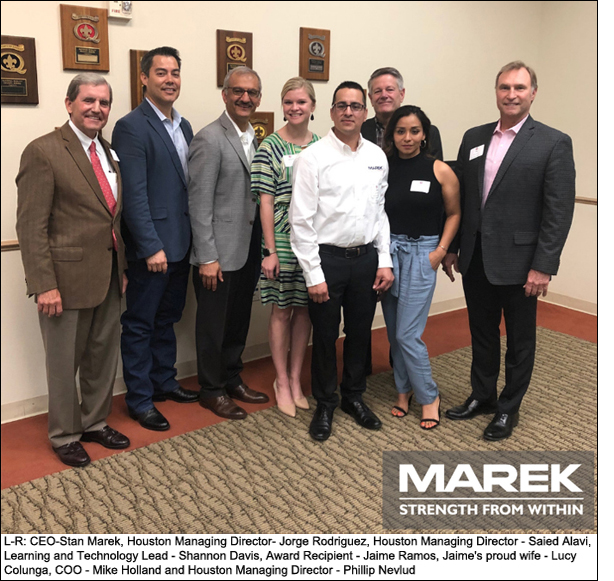 Throughout his career, Jaime has in turn worked to help others grow as well – first as an on-the-job coach and now as a field supervisor and instructor. He promotes construction careers by volunteering at school events including drywall clinics and speaker panels.
When asked to share a message with graduating Helpers and Mechanics at MAREK's 2017 workforce development graduation in Houston, Jaime said the best advice he could give is to take advantage of every opportunity and ask questions. "Whenever the company offers you something – whether it be training, overtime, classes – take it. Sign up for it. Use it for your advantage. The more you know, the better off you will be. And one day, people will come up to you, and ask for your advice, for your help, because they know they can rely on you. I tell you now – don't hesitate when you have questions. Ask. There are a lot of people who are willing to help you, but you have to ask questions."
Jaime is just as committed at home as he is at work. He and his wife, Lucy, met as teenagers, later fell in love and are now proud, devoted parents of three children. He and Lucy's positive, can-do attitudes carried them through a difficult time two years ago when they lost everything to flooding during Hurricane Harvey. In the face of an overwhelming challenge, Jaime's main concerns were the safety of his family at home and his family at work. He was back on the jobsite ensuring his crew had everything they needed and his students did not miss a class.
In addition to the AGC Houston award, Jaime was recognized nationally last year at the Associated Builders and Contractors' (ABC) convention in California as one of four national ABC Craft Professional of the Year finalists.
"We are extremely proud of Jaime and his achievement as the AGC Standard of Excellence award winner," says Sabra Phillips, Director of Talent Development. "Both in recognition of his individual craft leadership and also in recognition of all of MAREK's team members. Jaime is only one example of the many outstanding drywall and interior trade craftsmen and craftswomen who are a part of the MAREK family."
"Jaime embodies the MAREK values of putting people first, excellence in everything we do and doing the right thing. He leads his crews to achieve MAREK's four company goals of safety, impressing the customer, being productive to achieve a fair profit, and making MAREK a better place to work every day," says Jorge Rodriguez, Managing Director. "His commitment to developing himself and others is an inspiration to all of us."
The Associated General Contractors of America (AGC) Houston Chapter's Standard of Excellence Award is presented annually in special recognition of a construction industry employee who most exemplifies the highest standards of excellence: teamwork and professionalism, creativity and innovation, commitment and cooperation, customer service and quality and community service.
Congratulations, Jaime!