Printer-friendly version
Download Project Profile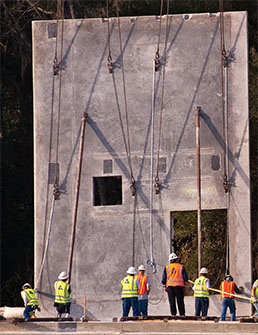 This article was authored by Amy King, Communications Manager for NCCER and was originally published on Breaking Ground: the NCCER Blog, and was re-posted with permission.
When you think of the future, what do you think of? Is it self-driving cars, robotic vacuums or the ability to talk to people through your watch? If so, then the future is already here, and TV shows like "The Jetsons" and "Knight Rider" have become a reality, but what about the next 20 years? What does the future look like for the construction industry? In the last issue of The Cornerstone we looked at how construction workforce development has transformed over the last 20 years as a result of NCCER. Now we want to look at where workforce development is heading and how NCCER will be there along the way.
THE FUTURE IS HERE
These days, technology is embedded in everything we do, and we have come to expect it. Using our mobile devices for everything from shopping to trading stocks to calculating a 90-degree offset for a pipe run have become second nature. Although the construction industry may not be the first industry that comes to mind when thinking about technological advances, it is certainly seeing the impact of technology and the expectations of a techsavvy generation.
As of 2015, 1 billion people owned smartphones, and that number is expected to rise to 2.3 billion by 2018. Last year, one-third of the total visits to NCCER's website were from mobile devices, and 40 percent of first-time visits were from mobile devices. This pattern of mobile use has steadily increased over the last five years as opposed to desktop traffic, which continues to decrease. Since the construction industry is a very fluid environment with people and projects constantly changing locations, websites and apps are becoming more beneficial. Recognizing this need, NCCER is developing and evolving its mobile strategy and refining its technology‐based programs as part of its five-year strategic plan for 2016-2020. In just the first year of the strategic plan, NCCER has already started enhancing its online offerings and mobile access. This past summer, NCCER launched an all-new Registry System with a user-friendly dashboard and capabilities that include online submissions, faster processing and individual profiles. In addition, NCCER will unveil a new, mobile enhanced website by the end of the year along with a new Testing Management System and mobile credentialing app in early 2017. All of these projects are designed to provide more accessibility and functionality to the NCCER network.
A TRAMCON program trainee works in the carpentry lab making cuts with a circular saw.
While we are beginning to see more contractors using emerging technologies such as tablets, smartphones and drones to help manage the process of building structures, we are also seeing expansion in the use of existing processes like modular construction. Recognizing the value of modular construction, last year, the University of Florida and a consortium of four Florida colleges received a $10 million Department of Labor grant to establish the Training for Manufactured Construction program, or TRAMCOM. UF developed the TRAMCON program with curricula from NCCER and the Manufacturing Skill Standards Council (MSSC). Students who successfully complete the program through an NCCER accredited organization can receive credentials from NCCER, MSSC and TRAMCON.
The four colleges that deliver TRAMCON have technology centers equipped with 3-D printers, CNC machines and laser cutting machines for students to apply their science, math, technology and engineering skills. "We have to make sure that our workforce is familiar with advanced technology because that's the future of construction, regardless of the trade," said Dr. Abdol Chini, a UF M.E. Rinker, Sr. School of Construction Management professor who oversees development of curriculum for the TRAMCON program with Dr. Charles Kibert. "I believe the future is a hybrid of regular construction and manufactured construction, and technology plays an important role."
In order to provide a two-level Manufactured Construction Technology curriculum for TRAMCON, NCCER combined existing training modules to match the goals and objectives of the program. NCCER's competency-based, modular format allows organizations to quickly and efficiently create training programs that meet their needs or the needs of their industry sector.
In addition, with an increasing number of NCCER curricula available online, training programs can be designed to incorporate learning outside of the traditional classroom. This online delivery allows for a more blended approach to training, leaving more classroom time for hands-on training and making learning more appealing for the younger generation.
PUTTING PEOPLE FIRST
Regardless of the technological advancements that are developed, the most important part of the construction industry is its people. After all, that is what workforce development is all about. From craft professionals to contractors to owners, it takes hard-working and dedicated people to make the industry successful. By focusing on its people, the construction industry will be better prepared for the changes that lie ahead.
A TRAMCON program trainee practices using a level during carpentry training as part of NCCER's Manufactured Construction Technology curriculum
One great training methodology from the past that we need to revitalize is mentorship. The construction industry was built on the idea of passing down knowledge and skills to the next generation, either from parents to children or from journeymen to apprentices. However, this practice is mostly a thing of the past as more journeymen have lost the art of being on-the-job teachers and coaches. A resurgence of mentorship is needed now more than ever as our industry's baby boomers prepare for retirement, and millennials are expected to make up 75 percent of the workforce by 2025. Experienced craft professionals have a lot to offer the younger generation. As mentors, they have the opportunity to leave a legacy and give back to the industry that has given them so much. Plus, contractors have the opportunity to utilize their experienced professionals as teachers or coaches.
With 20 percent of the construction workforce expected to retire over the next decade, it is important for the industry to take advantage of this opportunity before it is too late. This is why NCCER developed its newest curriculum, Mentoring for Craft Professionals. The program prepares craft A Marek head coach and trainee consult on a large commercial jobsite. professionals to become mentors by detailing the expectations and outcomes of a mentoring relationship, characteristics of effective mentors, phases of mentoring relationships, communication techniques, conflict resolution and elements of a formal mentoring program. After successfully completing the program, mentors should be able to determine the needs of trainees and how they learn best. Through mentorship, the next generation of our construction workforce will be equipped with the skills and expertise needed to maintain our industry's success.
Learning and mastering a skill takes practice and feedback. While knowledge can be taught in the classroom, the deepest learning takes place on the jobsite every day. One company that has seen a great deal of success with its mentoring program is Marek, a commercial specialty contractor based out of Houston. Through Marek's program, craft trainees are partnered with experienced craft professionals in the field who act as coaches. The pairs work alongside one another, and trainees are coached daily through structured, on-the-job training. Coaches also participate in Marek's Coach Qualification Workshop to create awareness and build competency around what makes a successful coach. Ultimately, Marek's mentoring program goes beyond teaching technical skills; trainees also learn how to build character and become leaders. The most impactful coach-trainee relationships are built on mutual respect, connection and an unwavering desire to learn.
"The responsibility for attracting and developing a new generation of craft professionals cannot rest only on the shoulders of a few," said Sabra Phillips, director of talent development at Marek and an NCCER workforce development committee member. "To make a big enough impact, we need all craft professionals equipped and empowered to take on the challenge of growing others. By developing a curriculum specifically around mentoring, NCCER shines a spotlight on this need and provides an avenue for industry to develop this skill set in all of our craft leaders."
Clear career paths are essential to any organization's staff development. However, there are many journey-level craft professionals who may not have an interest in moving into a management track. By providing them a path to success through becoming mentors and playing a key role in the development of the company's next generation of craft professionals, they are providing a valuable service to the organization.
A Marek head coach and trainee consult on a large commercial jobsite.
"There is an emphasis in the industry on skills training as the solution to our craft worker challenge," said Mike Holland, chief operating officer for Marek. "Although that certainly is the bricks and mortar of workforce development, it is the transformation of leadership expectation that is the foundation. Similar to the industry's paradigm shift in safety, this must be a culture change. Mentorship, in my mind, is the frontline example of leadership. Without that, there is no connection from skills training to leadership expectation."
Another important aspect of career planning and development for any construction organization is having a workforce development professional who understands the construction industry and can oversee recruiting, training and retaining craft professionals. In response to the growing demand for qualified workforce development professionals in the industry, NCCER released its Construction Workforce Development Professional program, which includes training and certification. The curriculum provides a broad overview and instructs individuals how to develop, administer and evaluate business plans; conduct analyses; oversee operations of a workforce development program, including its facilities, utilities, materials, equipment, curricula, assessments and staffing; develop and maintain budgets; and conduct marketing and promotion. The certification includes an assessment and verification of experience that allows seasoned professionals to receive recognition for their knowledge and skills. With such a wide scope of responsibilities, having the right person or team is essential to the success of any workforce development program.
"There is a great need for construction workforce development professionals, and companies want them to be effective and competent with the right skills," said Jay Tornquist, workforce development coordinator at Willmar Electric Service and a subject matter expert on the development team for NCCER's Construction Workforce Development Professional program. "Historically, this position has varied by contractor or organization, so it was unclear what the role of a workforce development professional encompassed. Now, we have identified the specific skills and knowledge that these professionals should have in the construction industry and created a program to train and assess them."
An additional tool that can assist in making workforce development a priority in the industry is the Contractors Workforce Development Assessment (CWDA). The CWDA measures the quality of a workforce development program so it can be used as a prequalification step during contractor and subcontractor selection. Not only does it provide a way for an owner or contractor to evaluate a potential company's workforce development program, it also provides participating contractors with an objective strengths and weaknesses report that allows them to maximize their strengths and remediate their opportunities for improvement.
"We were eager to complete the assessment to gain an outside perspective through an objective and qualitative metric on the efforts we put forth to develop our workforce," said Benj Van Donge, manager of workforce development for Interstates Construction. "The CWDA results confirm our belief that we have a superior commitment to training and development. Of course, we want to gain and build on our reputation that our employees are technically sound. At the end of the day, owners know they can trust Interstates Construction's ability to build their projects."
Of course, before we can develop our workforce, we need to recruit more people into the industry. Perhaps one of the obstacles in doing this is that the nation's current workforce system is a disorganized maze of bureaucratic programs that is not serving our industry's needs the way it should be. It can be very confusing for people outside of the industry to decipher what type of training is available and how to get engaged in a construction career pathway. In an ongoing research study by the Construction Industry Institute (CII) titled "Improving the U.S. Workforce Development System," researchers are analyzing apprenticeship and workforce development systems worldwide to identify the elements of a result-oriented and high-performing workforce development system. Ultimately, the research hopes to compare and contrast U.S. and global workforce development models to develop recommendations for creating a U.S. system that will lead the world in providing a sustainable workforce of skilled professionals for construction and other skill-based industries.
As the principal investigator on CII's research project and a professor of construction engineering and management at the University of Colorado, Paul Goodrum believes that one place to start is to provide more funding for career and technical education (CTE). "I see more industry and governmental funding partnerships evolving to help build CTE programs, especially in the urban areas. This will help high schools ensure that all graduates are both career and college ready. As a college professor, I can attest that my engineering students who are career and college ready do better in the classroom, so it is a win-win for everyone."
Goodrum believes that having more CTE programs will also help the industry be able to better utilize technology in the future. "There are outstanding CTE programs in K-12 and postsecondary programs throughout the U.S., but there are not enough of them. If we rebuild the CTE programs, especially in the urban areas where the U.S. population is growing the fastest, this will build the foundation for a workforce that can better implement technological advancements to promote a great deal of improvement in productivity, safety and quality."
To further highlight and support the importance of CTE, NCCER has modified the structure of its board of trustees to include three seats designated for educators. It also recently expanded its relationship with SkillsUSA, a leading career service organization for CTE students, to become a chartered SkillsUSA organization. The partnership gives eligible organizations and students in NCCER-accredited training programs access to SkillsUSA's highly-rated professional development program and the opportunity to participate in local, state and national skill and leadership events. It is the hope that this expanded relationship will promote closer relationships between industry and successful CTE programs along with providing more defined career paths for individuals
A Marek drywall foreman (right) and his lead man demonstrate the benefits of blueprint technology while consulting with aproduction manager (back-center) regarding the job's progress and schedule.
TALKING THE TALK
Having the technology and people to lead our industry into the future is important, but something as simple as terminology is often overlooked yet can have a detrimental effect on our workforce development efforts. In the past, NCCER was instrumental in driving the change to eradicate terms such as "hands" or "tradesmen" to describe skilled professionals in the construction industry. As a result, the term craft professional has become more prevalent and does a better job of describing what these men and women do each day.
Our next task as an industry is to stop labeling highly skilled professions in industries such as construction, maintenance and manufacturing as middle-skilled. What these professionals do on a daily basis not only displays their knowledge and understanding of their discipline, but it also exhibits their skills in building and maintaining our houses, schools, hospitals, power plants, roads, bridges, offices and more. Each morning when we turn on the lights, take a shower, drink coffee, drive to work and arrive at our jobs, we should recognize that the people who make all of this possible are far more than just middle-skilled. Using terms like "middle skills" or "blue collar" make it difficult to recruit new people into our industry and stifles the advancement of career opportunities that help individuals reach their potential. It is vitally important that we watch what we say and stop using derogatory terminology to describe these careers and the professionals who build America.
J. Doug Pruitt, chairman of the board for Sundt Construction suggests that the reason society uses degrading language when referring to the crafts is because of history. "There's a history of bias based on what we were taught after World War II when we rebuilt this country with skilled labor," said Pruitt. "After the war, it was decided that for our kids to achieve the American Dream and be successful, they needed college degrees. We begin to demean work when we do that. Essentially, we are saying that if you don't have a college degree then you won't be successful."
Pruitt explains that in reality, the crafts are often times labeled middle skills because most people do not understand what craft professionals do, so they cannot relate it to education or training. People who work with their hands do not receive the same respect as people with four-year degrees because of a hierarchy that society has created. In order to change the dialogue, we need to stop referring to college as the only path to success after high school.
Finishing mechanics and certified on-the-job training coaches from Marek pose proudly with their trainee (center).
"We are losing our skill set as a nation," said Pruitt. "Europeans have done a much better job at recognizing skilled professions as being critical, and they don't demean the work. The broad spectrum of success is about your contribution to society, not labels. We need to get rid of these labels and start honoring work like we did in the past."
ON THE RIGHT PATH
The achievements that both NCCER and the construction industry have made so far are steps in the right direction, but we have a long way to go. It is critical for everyone in the industry A Marek head coach partners with a trainee and coach to review the trainee's overall development and skill mastery within his training plan. to come together and get on the same page about workforce development and support the changes that lie ahead. With improved technology and a generational shift from baby boomers to millennials, the construction industry has the ability to maximize on a lot of great opportunities right now.
Don Whyte, president and CEO of NCCER, stated it this way, "Technology is important because it creates a natural attraction for the next generation. However, regardless of technology, the future of the construction industry has, and always will, be in how we treat the men and women who make our industry great. If we do not start valuing our workforce by providing them with clear career paths and investing in developing their skills, we will continue to see individuals choose other industries for their careers. We need to be an industry of choice; we need to be widely recognized for successful careers and not the alternative to one. If we commit as an industry to comprehensive workforce development, I believe we will shrink the existing skills gap, recruit new talent and be seen as the industry of opportunity."
A Marek head coach partners with a trainee and coach to review the trainee'soverall development and skill mastery within his training plan.
For the rest of the articles in this issue of The Cornerstone, visit nccercornerstone.org.
About the Author
Amy King is the communications manager at NCCER. Her role includes being the managing editor of NCCER's biannual magazine, The Cornerstone, and its weekly blog, Breaking Ground. Amy has 10 years of marketing and public relations experience, including email, social media and grassroots marketing, promotions, event planning and writing press releases and feature articles. She holds a bachelor's degree in public relations from the University of Florida.