Printer-friendly version
Download Project Profile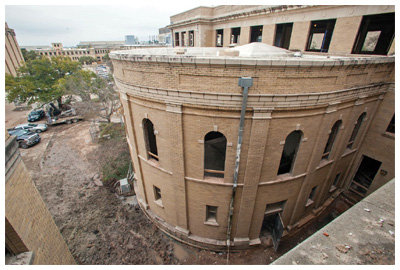 Authored by Scott Braddock and originally published on ConstructionCitizen.com.
The $10 million renovation of Francis Hall at Texas A&M University puts the school in a one-of-a-kind position among institutions of higher education in the state.  It is the only building anywhere in Texas dedicated solely to the education of construction sciences, according to Joe Horlen, who heads up the Department of Construction Science in College Station.

For the renovation, the university provided $4.5 million in state funds while the Department of Construction Science did the work of raising the remaining $5.5 million from the school's partners in the construction industry and individual donors – many of whom are former students, Horlen said.

In an interview on Construction Citizen's weekly podcast, Horlen said it was particularly cool that companies which regularly compete against each other in the marketplace came together for the good of the entire industry to make this educational investment in its future leaders.

The renovation began 5 years ago, Horlen said.  "We put in a proposal that we would renovate the building and use it as a space to support our growth."

The auditorium was originally a lecture space for the building's namesake, Mark Francis, the university's first Dean of Veterinary Medicine.  On one wall of the building's auditorium hangs a picture of Francis giving a lecture to veterinary students in which he used the full skeleton of a horse as a visual aide.  "That picture was taken the year the building opened back in 1918," Horlen said.

Horlen said building was completely gutted and remade in the school's effort to provide the best possible educational space for students who have chosen construction science as their major.

The building's features include state-of-the-art classrooms and labs, a student lounge, and collaboration areas which feature spaces for academic competition teams, exposed mechanical electrical, and structural systems serving as a learning laboratory, and the capacity to increase the program's enrollment to as many as 1,000 students.


"We were able to show that we could use the building as a learning lab for our students by putting exposed systems throughout the building," he said.  That includes glass walls on the elevator shafts, glass walls on the mechanical rooms, exposed duct works, and more.

"Students can see what's normally inside of a wall," Horlen said.  "There's all kinds of things like that throughout the building so that students can actually see how all these things work."

Francis Hall also features the Marek Safety Lab, where students learn techniques for how to keep construction workers' environment on jobsites as safe as possible.  The lab contains 25 mannequins for CPR demonstrations and things like that, Horlen said.  "Those things unfortunately do happen occasionally and we can now simulate it in the safety lab," he said.

"Our students can actually do these things hands-on instead of just reading about it in a book," Horlen said.  "We might think 18 year olds already know that stuff but the reality is they don't," Horlen said, adding that being surrounded by striking visuals of how construction works is one of the most effective ways to teach them about how an idea makes its way from an architect's drawing board to becoming a physical structure.  "That makes it much more understandable to the students," Horlen said.