Printer-friendly version
Download Project Profile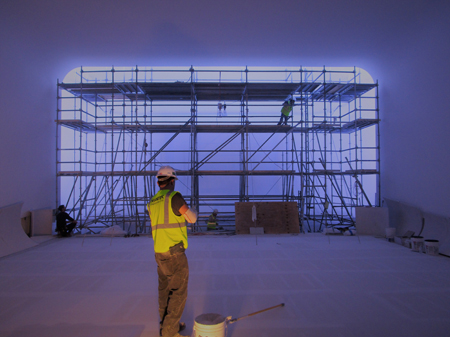 The following article was written by Jim Kollaer and originally published on Construction Citizen.
Hallie Busta over at Construction Dive recently published an article entitled Seeing the Light: How Linbeck gives shape to James Turrell's luminous art in which she interviews the Houston contractor Linbeck about the skill needed to meet the rigorous demands of artist James Turrell for his light exhibitions.
This particular installation was constructed at the Massachusetts Museum of Contemporary Art or MASS MoCA in North Adams, Massachusetts, a small city located in the Northwestern corner of the state near the Vermont stateline.
This exhibition of light and space is installed in a 47,000-sq-ft basement level space in a 140,000-sq-ft former mill pre 20th Century building and is erected to meet the artist's exacting standards that he feels is necessary to feature his vision of light. Because of the age and "out of plumb" walls of the building and the precise standards of Turrell, Linbeck and their specialty contractor, Houston-based MAREK, decided to prefabricate many of the components off-site and have them shipped from Texas to the jobsite.
According to Tom Butler, director of sales operations and a client executive at Linbeck, and who handles the firm's Turrell work, "The primary driver for prefab was not time savings, it was quality control."
Turrell's signature design includes knife edges and level 5 plus finishes for the exhibition planes, a surface that demands high skilled drywall installers and finishers like MAREK employees who spent the better part of six months on site with the Linbeck team.
MAREK's team
According to Larry Smallwood, Deputy Director and Chief Operating Officer for the Museum, "They did a great job. On time, on budget and beyond my expectations." The exhibit opened on May 28th.
This is Houston based Linbeck's 20th light-centric installation with the artist and is a fine example where the skilled craft workers are true collaborators with the artist.  For more, read about MAREK's work with Linbeck on the install of the Turrell exhibit in Houston a few years ago.