Printer-friendly version
Download Project Profile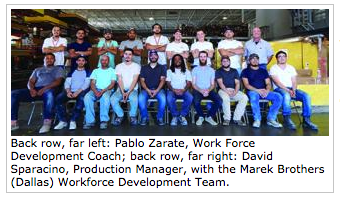 The following article was authored by Dan Zulli and originally published in Construction News.
John Hinson has been with Marek Brothers Systems since 1984, right out of college. He was transferred to its Dallas office in 1988 and became the division president the following year.
But despite being born and raised in east Texas, when it comes to sports, there is no dispute.
"I am a life-long Dallas Cowboys fan and a life-long Texas Rangers fan." Also throw in the Dallas Mavericks and Dallas Stars.
Being a fan of team sports comes easy for Hinson, for when it comes to his business, it's all about the team.
Hinson is emphatic when it comes to describing those who work not only for big company Marek in Houston, but those in his Dallas office, which began in 1979. "We're blessed; we have a fantastic team who work for us." That team is spread out in the Dallas area with the main hub in Coppell, and offices in McKinney and Fort Worth.
And team sports comes naturally to Hinson, as Marek has been involved with them for years, such as working on the iconic Texas Stadium, the new AT&T Stadium, American Airline Center, the Texas Rangers' Globe Life Park, even the new Globe Life Field when it's built.
The terminal renovations at DFW was a big project, but new ones include the EOG Resources building in Midland and the new Texas Life Hotel in Arlington.
Marek has also gone into Tennessee (Knoxville and Nashville) to work on Bass Pro Shops buildings.
The ever changing and fast pace of technology is an industry-wide challenge. Hinson is excited about how technology can aid construction, such as augmented reality glasses, which allows the wearer to actually walk through a completed structure before it's even built.
Marek, Hinson is on the forefront of using such technology. "The problem is the rest of the [construction] world has not caught up with us."
Still, with all the new bells and whistles, it all comes down to the people. Hinson boasts of his company having a very high retention rate and how great the sense of being on a team is the best part of it all. Hinson is especially excited about Marek's safety program recently winning the national award from the Association of Builders and Contractors. "Our team won the highest award you can get," he said. When he goes to Long Beach to accept the award, he wishes all his team could be there. "I would love to have all our employees on the podium. They deserve it more than I do," he said. Hinson said he's going to bring the hardware back so all his crew "can have their own picture [taken] with the award because they deserve it."
Instead of having Hinson's picture accompany this article, he preferred to showcase his folks instead. "That means more to me than a picture of my ugly face," he jokingly said.
There you have it. No matter how great the coach is, it's all about the team and the players on it. And the best leader is one who recognizes that the players are the ones who hit the ball, or put it into the hoop, or across the goal line. It's all about the team.
Marek Brothers Systems, Inc., is a drywall, acoustical ceiling/sound control and metal stud framing business in Houston, Austin, Dallas San Antonio, Harlingen (TX) and Atlanta (GA).