Printer-friendly version
Download Project Profile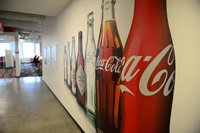 Source: www.bizjournals.com
Check out Coca-Cola's new IT division office that Marek's Atlanta Branch completed all drywall work on:
A transformed open and airy office environment has welcomed nearly 2,000 Coca-Cola employees to SunTrust Plaza's "Garden Offices" in the heart of downtown.
The Coca-Cola Co. invited members of the board of Central Atlanta Progress to visit the company's new home for its information technology division. The move came as Coca-Cola consolidated seven offices into five, The move of about 2,000 workers to downtown is viewed as a major boost to downtown.
But Andrew Currie, director of change implementation and communication for Coca-Cola's Global IT and Global Business Services, said there was quite a bit of skepticism on the part of some employees to move to the downtown office building. "The fear factor was pretty high about going downtown," he said.