Printer-friendly version
Download Project Profile
The following article was authored by Elizabeth McPherson and originally published on ConstructionCitizen.com. 
The Associated Builders and Contractors (ABC) have developed an amazing tool which enables contractors to build safety programs to ensure that their employees remain safe on their jobsites.  ABC's STEP program, which stands for Safety Training Evaluation Process, is available free online at the basic levels of Bronze, Silver and Gold; and offers additional levels of credentialing for those wishing to apply for either Platinum or Diamond status.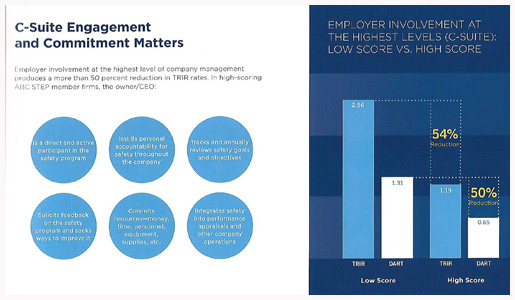 Established in 1989 by the ABC's EH&S Committee, it was developed and written by contractors, for contractors.

Mike Holland, COO of MAREK, said about the program:

"ABC's STEP program is the most effective tool to grow and improve a safety training program and the safety performance of a company that I have ever seen or experienced.  The combination of best practice behaviors and metrics is a surefire formula for improvement.  As importantly, I look forward to the ABC Safety Academy for executive leadership, coming this November, to provide a blueprint for safety leadership from the top."

(Click on image to enlarge graphic.)

ABC's 2017 Safety Performance Report (mentioned by Greg Sizemore in the video below) lists six core leading indicators used to identify the most dramatic impact on safety performance in a company.  They are:
Substance Abuse Program
New Hire Safety Orientation
Site-Specific Safety Orientation
"Toolbox Talks"
Near-Miss/Near-Hit Analysis
Site Safety Committee
I caught up with Greg Sizemore, ABC's VP of EH&S and Workforce Development, at the ABC National Craft Championships in March, where I asked him about the ABC STEP program.  He said:

"STEP is our Safety Training Evaluation Process.  What it equips or enables contractors to do is to evaluate their current position when it comes to safety performance and then begin a journey to what we call world-class safety performance.  Knowing that you cannot run a marathon overnight, you have got to start somewhere, and this equips those contractors to be able to do that."

He went on to explain that the mission of ABC is to "send every worker home in the same or better condition than when they got [to work]."  He said that STEP produces data – in fact that the 2017 Performance Report represents "over one Billion work-hours of safe activities on projects."

You can watch the 1½-minute video of my interview with him at the NCC, and look for my report of his keynote address at the MAREK workforce graduation later this month.