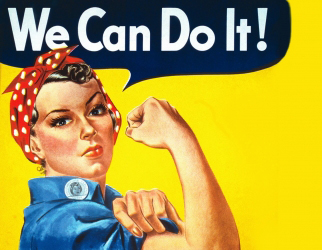 Did you know that the USS Lexington, built in 1942, participated in nearly every major operation during WWII AND was BUILT BY WOMEN? Yes, you read that correctly, this 42,000 ton, 910 foot war machine was constructed by women.
Women have played major roles in construction for decades. During WWII and the Korean conflict, women had to take the jobs that the men couldn't take since they were on the front lines. Not only did women build the war machines, they ferried the men to Europe and the Pacific theaters. Many women lost their lives during the wars while doing so. Their model was "Rosie the Riveter" who symbolized the women who played major roles as riveters, sheet metal workers, and steelworkers. They built tanks for the front, built locomotives for the home front and flew major missions around the world.
Women's contributions to the construction industry are often overlooked. Is it because construction has been viewed as a predominately male industry? This question led me to more questions and so far not enough answers. One way to we can answer these questions is by delving deeper into women in construction who work in the field and figure out what roles they've played, what roles they're currently playing and the enormous opportunities that lie ahead. We can start by focusing on some women here at Marek, Krista Sayre and Grace Johnson. They are two exceptional women in construction who are proving that women can indeed make a career in the construction industry.
Today, Krista Sayre is the Superintendent for Houston's Window Treatment department and is the only female Superintendent Marek has ever had! Krista started walking on stilts when she was just 11 years old. Was it because she wanted to be a construction worker when she grew up? Nope! It was because her step-father Alan used to dress up like Frankenstein on Halloween and pass out candy to trick-or-treaters. It looked like fun, so she made it her mission to learn how to walk on stilts.
Looks are deceiving; walking on stilts was very hard and took a lot of practice. She wasn't allowed to just climb on and start walking– she had to prove that she could fall properly before they could be raised from their lowest position. Under her step-father's guidance, Krista spent a lot of time learning balance, walking, and falling properly without getting hurt. When she mastered the proper fall technique her step-father raised the stilts gradually until they were fully extended. Krista emphasized FALLING so much that I had to ask why falling correctly was important, falling is falling, right? Wrong! Krista said, "The arms are more fragile than the knees, so falling from high stilts can result in broken bones. If you wind up in a wheelchair you can still work and go to school, but if you break both of your arms, you're out of commission." That makes perfect sense. With the ability to safely walk on stilts, she saw the opportunity to earn money by helping her step-father cut and lay in acoustical ceiling tile.
Then life happened. Krista started her family. She worked jobs that would accommodate the hours required to give her family the attention they needed. However, she felt like something was missing. One day when she was cleaning out her garage, she found the stilts she learned to use so many years ago. She dusted them off, put them on and after a couple wobbly steps realized she could still walk on them. That moment the "what" that she was missing hit her…Krista was missing a career!
Capitalizing on her desire to earn more money and her ability to walk on stilts, she started calling construction companies looking for work. Fortunately for us, Marek was one of the calls she made. Krista joined the Acoustical Solutions department working in the field.
Krista's "can do" attitude and dedication has helped build and strengthen Marek's Window Treatments department to one that any CEO would be proud of. With a rock solid team, hard work and sometimes long hours, she's able to ensure that each project meets or exceeds the Marek standard. I asked Krista what she loved about her job and she said, "I love to help people. I like watching them excel. I want everyone to be proud of their accomplishments." Krista came to Marek looking for a job and ended up with a career.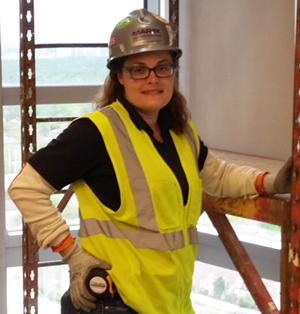 Krista knew she COULD, so she DID
Grace Johnson is another woman here at Marek who is making a name for herself. She's no stranger to working in construction, however her introduction to the trade was in an office setting. With a desire to get away from behind a desk and get active, Grace decided to try her hand at working in the field. Thankfully for us, she already knew about Marek and after a successful interview, she joined the Acoustical Solutions department as a general laborer. Through Grace's work ethic and tenacity she impressed a tough foreman who recognized her potential. He took Grace under his wing and began to train her to establish her role in the department. As her skillset increased, she advanced from general laborer to journeyman and then a foreman (forewoman?).
As a foreman, Grace took the 30 Hour OSHA Safety Course that provides training on the recognition and prevention of workplace hazards. With the OSHA certification under her belt, Marek recognized her efforts and hard work and was advanced to become a valued safety advisor. Grace works closely with field management to ensure a safe environment for everyone on the jobsite.
Grace has worked on very noteworthy projects that include: MDA Cancer Center, Baylor College of Medicine, Phillips 66 and the complex ExxonMobil Campus Project near The Woodlands. I asked Grace if she had any advice for women who were considering a career in construction, to which she replied, "Stay strong. Don't give up. Fight for what is right and that will let everyone know a woman can survive in a male-dominated industry." Grace's keen eye for detail is a quality that benefits each project, every time.
Grace knew she COULD, so she DID.
Overall Marek has roughly 1,200 commercial construction employees working in the field, only 22 are women. That's 2% of our field workforce. Really? Only 2%! We've seen that women can build warships and airplanes. Each day they put on their tool belts and work just as hard as their male counterparts.
My goal with this series is to show women can make careers in the construction industry just like "Rosie the Riveter" did during the war years. In upcoming blog posts, we will profile more women in construction, their roles, and the contributions they've made. We will explore the facts, statistics, stereotypes, and what attractive career opportunities construction provides for women and men too.