Printer-friendly version
Download Project Profile
On June 22, 2018, at the MAREK Dallas/Coppell branch, we launched a new program for an introduction of our services to the Architecture, Designer and General Contractor market.
We partnered with Knoll Textiles, offering a 'Hands-On Workshop'. Stantec Architects, a growing firm in Dallas, displayed interest in learning more about us, hence the 'workshop' idea.
With this opportunity, we shared information about Novawall, Novaspan Stretched Fabric Ceilings, Knoll Textiles, Banquette Seating, Glass Boards, Direct Application of Filzfelt and Wall Panels, Baffles, and the list goes on.
Stantec's main objective was to learn more about our Novawall System, so we set up the training room in stations going left to right as seen in the photo below.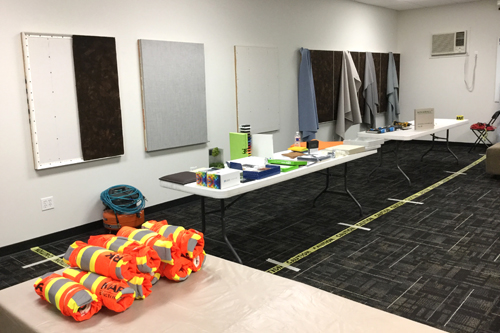 Station #1 was a deconstructed wall panel to view what goes on underneath the fabric.
Station #2 was the finished product (the goal.)
Station #3 was where the fun began with Edgar Zaldivar (a Lead Foreman) demonstrating stapling 2" profile track into a sheetrock wall. Then the tools were offered to the designers and architects to try it. Let me say, they were not shy and got quite good at it!
Station #4 involved their participation in handling and tucking fabrics, including needing to heat one fabric to make it more pliable to tuck.
Keep in mind, everyone had full PPE gear on, except for the hardhats, and Edgar was within an inch of them as they handled the tools.
The event wrapped up with a slideshow of past MAREK Special Products Division work during lunch and a goody bag was given out, including mugs that we co-branded with Knoll Textiles.
The feedback we have received has been fantastic, and we look forward to sharing this new avenue with other firms. View some photos from the event below: