MAREK Announces Merger/Acquisition of McElroy Specialty Interiors, Inc.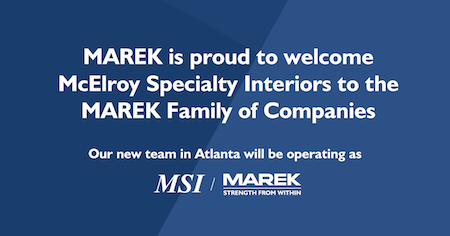 ATLANTA, JULY 26, 2021 – MAREK announced today the merger/acquisition of McElroy Specialty Interiors, Inc. (MSI), a leading specialty contractor based in Marietta, GA, creating a new corporate subsidiary effective July 26, 2021 - MSI/MAREK. Founded in 1994, MSI provides subcontracting, design-build, construction management and consulting to various industries and general contractors.
With a cumulative 110 years of experience in the construction industry, the strategic merger intends to invest significant resources into future healthcare and pharmaceutical work in Georgia and the Southeast.  Both MSI`s employees and their clientele will benefit greatly from this merger resulting from the companies joining together.
"By combining both companies' resources and experience, the merger with MAREK allows us to better serve our client`s current and future needs, particularly within the healthcare and pharmaceutical sectors," said Randy Hardy, President of MSI. "We look forward to joining the MAREK Family of Companies, where we`ll continue to foster growth and innovation within our field of work."
Commenting on the acquisition, Mike Feather, MAREK Atlanta Division President, said: "MSI has a rich legacy of leveraging innovation, meeting their customer's needs, and honoring company culture. We knew very early on that this would be a great fit, and we are proud to welcome them to the team finally." 
MSI will operate under the MSI/MAREK name and maintain their headquarters in Marietta, GA.